We're heading up over to the Orchard Field, and Pants and Dora are swinging and straining on their leads.  They've caught the scent of the hounds who lolloped through the village yesterday, leaving their big paw prints over the wide grass verges. Dora's father was a Hunt Terrier, and I wonder if the scents provoke any ancient instincts. I hold her lead tightly, in case she shoots off down a drain.
The rain is falling in an unfriendly curtain, and I can barely see out from my hood. I fit my boots in semi-circular divots left by the horses, and wonder what glory was to be had, riding to hounds on a grim, grey Wednesday in North Oxfordshire.
The topic of hunting makes my heart race. It makes people so incredibly angry – far more than illegal deer hunting, or mole-trapping (which makes me FURIOUS), or dog-fighting.
I'm ambivalent about foxes. I'm not very good at killing things. But I've been around chickens most of my life, and as a child, I remember my mum picking up the poor, headless bodies of the pullets in the side paddock, putting them in a black plastic sack. She had tears coursing down her face, and was shaking with rage. I had that same rage, twenty years later, when I caught a fox half-in, half out of my chicken pen, one summer's dawn. My birds woke me with a tremendous noise and I shot outside in my knickers, then chased the fox (a whopping dog) out of our garden and across the cricket pitch. I was so angry I didn't feel any pain in my bare feet, nor care that any early walkers would have seen me; breasts bouncing, buttocks wobbling – streaking and shrieking, ludicrously waving a gardening trowel. If I'd have caught that fox, I'd have squashed it flat, shoved it in the van and driven into Banbury for it to live outside Iceland and be urban.
But to be honest, I'm not at all sure that general anti-fox hunting feeling has anything to do with foxes. I was at the school-bus stop yesterday, when the Warwickshire came up the Wroxton Road. Every single one of the women I stood with made hissing noises and took a step back into Bob and Brenda's driveway. The Huntsman waved and called hello, and the hounds were merry and controlled, but still the others didn't call hello, just shrunk back further. I stood alone, with my phone camera, grinning, loving the ancient treat of seeing horses and hounds trot briskly past in the rain.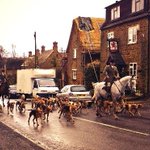 When they'd gone (the last rider was a lady, who looked as if she were wearing an old Scout tent) I asked the others why they didn't like them. There were mutterings about hounds meeting the school bus on the bends, and horses shouldn't be on roads at school-bus times, and that they think they can ride where they like, and they don't shut gates. No one mentioned foxes.
'Bunch of knobs,' came the last comment, and we hastily turned the conversation back to types of dining chair. But how interesting.
And then there's my own thoughts on hunting. I went out as a child in the late eighties with Pony Club chums, and frightened myself silly, but I still love the whole glamour and bravery of the thing. I have all sorts of unsuitable crushes on men in tweed jackets with shiny-topped boots, and my heart races ridiculously when I hear the horn, or the shoes of trotting horses clipping past. I'd love nothing more than to be at the back, giving the fences and ditches a go, spitting mud out of my mouth, swigging a hip flask behind a blackthorn copse. I don't want to kill a fox, though. Or see a fox being killed. In fact, I'd like to take foxes out of the equation altogether.
We reach the Orchard Field and I let the dogs go as I stand beneath the little oak. Mid-wee, Pants suddenly does his funny half-collapse before going on point, and I start running to catch him before he mullers the cat from Meadowsweet Farmshop, next door. But I'm far too slow. He's off like a rocket, bendy rubber-toy body flying over the yellowed goose-grass. Dora goes after him, a second bullet, complete with yapping. They're heading towards the spinney, away from the farmshop – it's too far – the cat won't stand a chance. I dash the rain from my eyes, reach the top of the hill.
I see their quarry; it's getting away and I stop shouting and laugh, my breath coming in heaves. Not a poor little cat. A bloody great fox.  Go Pants, go. Point it towards Banbury.